No matter what type of business an organization is and what it does, the most important part of the business is getting paid for the work done.
For small businesses, this is even more important. Small businesses usually operate on razor-thin margins and depend on their cash flow in order not just to grow but to survive. A bill that has not been paid within 2 months despite multiple reminders will likely go unpaid without professional help. There is a 90% chance that you will see a complete loss on these accounts. This is because your in-house employees cannot beat the recovery rate that can be achieved by professional debt collectors. A collection agency will systematically collect your outstanding AR using "Written Demands", "Verbal Demands" or "Filing a Lawsuit", or a combination of all these services.
Need a Small Business Collection Agency:

Contact us
If your business is being hurt by past due accounts receivables, here is what you need to know. Depending on how old your unpaid bills are, here is a simple chart that suggests which collection agency service should be used.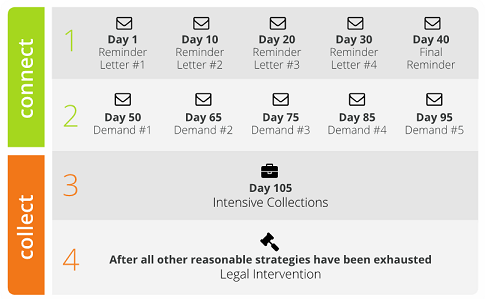 Service Options & Our Fees
Depending on how old your accounts are, we recommend one of the following two options.
Option 1: (Contingency only collections)
Most popular – A professional debt collector calls your debtor multiple times
There is no upfront fee. We do not make anything until we collect. You keep 60% of the amount collected, we keep 40%. This service is recommended for accounts that are between 120 days and 3 years past due, regardless of the balance.
Option 2: (Flat-fee collections) Written Demands
This service requires you to buy a batch of accounts in advance. We send 5 attorney-approved written demands to your debtors under our name every 10 days. This service is most effective when your bills are less than 180 days past due.
Unpaid Bills and Small Business
Debt and unpaid bills are a major problem in America that not only affects consumers but businesses as well. About a third of all Americans have a debt that is has gone so far past due it is currently in collections. This represents over 75 million people. These unpaid bills range from as little as $25 to as much as $100,000 or more. The average amount that is delinquent / past due is around $5,000.
Obviously, the amount of past-due debt varies by company and industry but overall, the average small business has over $80,000 in unpaid invoices and a whopping 81% of those are at last 30 days past due. When this happens, small business owners face several challenges. These include not being able to hire more employees, buy new equipment, or do the marketing they need to grow. In more dire circumstances it can mean not being able to buy inventory, the owner and/or the employees taking a pay cut, job cuts, and ultimately, business failure.
Avoiding Unpaid Bills
Before it gets to a point where crucial functions, salaries, or jobs need to be cut, there are a few things that small businesses can to help avoid unpaid bills. While these methods aren't foolproof they can help minimize your risk.
One problem many small businesses face in many aspects of their business is not having a defined, written policy on things. This is as true for credit and debt collection as any other function of the business. Having a written policy about how you offer credit and how your business goes about collecting past-due bills will help enormously.
Have Tighter Credit Policies
Depending on the type of company and the industry, many businesses have no choice but to offer goods or services on credit. What you do have a choice in though is how much you offer and what kind of investigation you do into a client before offering credit. If you struggle with unpaid invoices, making it harder for everyone to receive credit from your company should help minimize past due accounts.
Hire a Debt Collection Agency
Once an account goes 30 – 120 days past due, it may be time to hand that bill over to a professional. As good diligent as you and your company might be about trying to collect, you will never have the time, systems, or expertise that a professional debt collection agency has. They will have a much better chance of recovering what you are owed than you will.
Hiring a Small Business Debt Collection Agency
When hiring a debt collection agency for your small business, there are a few things you want to look for. Here are the main things to consider.
The first thing you want to find out is if the debt collection company is reputable and ethical Remember, the collection agency you use will be a reflection of your business. Using one that is overly aggressive or unprofessional will come back on your business.
Licensing, Insurance, and Compliance
The rules and laws governing debt collection agencies can vary slightly state by state but in general, you want to make sure that the company you use has the appropriate licenses and insurance and is compliant with all local and federal debt collection practices.
Check out exactly how the company gets paid. There are a few different ways this happens and while none is inherently better than the other, one way might make more sense for you and your business than another. The main ways these companies get paid are by flat fee, by taking a percentage of the money collected, or by buying the debt outright at a discount.
A business is defined as an entity that provides goods or services to another entity in exchange for money. While the definition is simple, there are so many different types of businesses. There are huge corporations with millions of employees and sole proprietorships that are made up of a single person. Some businesses have tons of customers located all over the world while others may have just one or two clients. There are businesses that sell easily definable products while others get paid for providing many harder-to-define services.