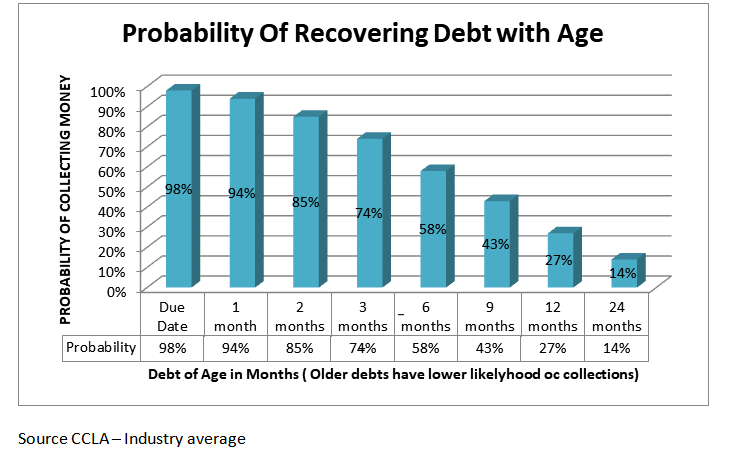 Working diplomatically and amicably with patients has a greater chance of recovery than trying to recover using unethical and overly pressurizing tactics.
An amicable approach becomes even more critical since medical practices fear denting their reputation if accounts are forwarded to a collection agency.
Need an experienced medical collection agency?
Two words that strike fear in the minds of consumers: Collection Agency. Patients worry about getting pressed with collection demands, phone calls, credit history, and possible legal suits. However, thanks to FDCPA regulations, collection agencies must now behave or get into trouble,
Fact 1: If a patient has not paid for 90 days (three billing cycles), the chances that they will now pay their medical bills are nearly zero. They may have piled on more bills too.
Fact 2: Your staff hates calling patients repeatedly to pay these long-due bills, and they can never take the task as efficiently and seriously as a collection agency. Without the involvement of a collection agency, you are essentially looking at almost a 100% loss. Debt collectors talk to people all day long, and they know all the tactics and ways to deal with patient excuses. If staff are not adequately trained in billing procedures and managing accounts receivable, it can lead to inefficiencies and errors.
Fact 3: There are several federal and state laws when you collect medical bills. Yes, there are laws if you want to recover your own money. Without knowing these laws exposes you to potential lawsuits.


HIPPA and Data Security
As part of these federal mandates, debt collection agencies must keep debtors' information private and secure. Data provided by doctors and hospitals can have personal information, including SSN, DOB, and other sensitive information. All "Personally Identifiable Information" must be protected from fraud, theft, and any other means of being public.
A reputable medical debt agency will know that they must sign a "HIPAA Business Associate Agreement" to agree that they will comply with HIPAA regulations.
Dealing with Insurance Companies
Medical debt collection agencies are not just about going after unpaid patient debt. Doctors often have a nightmare dealing with insurance companies and getting the claim processed in a timely manner.
Insurance companies are legally liable to respond within a few weeks after receiving a collection letter. A collection agency will not generally make phone calls to an insurance company.
Using the same skills they use to settle debts with patients amicably and professionally, these companies can assist doctors and back-end personnel with insurance follow-up.
Experienced medical debt collection agencies have even been known to coerce insurance companies into processing claims quicker than usual.
Conclusion
A collection agency does not have to be a bad thing. The right collection agency will improve your cash flow, without damaging valuable patient relationships.