In the health care industry, early intervention to recover past-due bills is extremely important compared to any other industry. The financial situation of patients quickly deteriorates as their medical bills pile up. It is important to recover money in the first 3-6 months before they completely lose the ability to make payments and may even resort to filing bankruptcy.

We are a leader in medical debt collections serving hundreds of medical practices all across USA. High recovery rates.
A dedicated team of All-American debt collectors, who specialize in collecting medical debt only.
Treat your patients with respect and protect your reputation.
Free "Change of Address Check" on every account submitted in case your debtor has shifted.
Free Bankruptcy screening.
Free litigious patient check, in case your debtor has a history of filing lawsuits on medical practices.
HIPAA, TCPA and FDCPA complaint. Security of your data is our top priority.
Free Credit Bureau Reporting.
Both English and Spanish-speaking debt collectors.
Highly rated ( Google rating 4.8 out of 5 stars. BBA rating: A+), as of January 2021.
We're Medical Debt Collection Experts
Serving Doctors and Hospitals nationwide:
Contact us
Serving hundreds of medical practices and references available on request.

A medical debt collection agency ensures that your medical bill sits on top of other debts that the patient may owe. The collection agency will explain to your patient the consequences of not paying and pressurizes him diplomatically and amicably to pay off the bill either in full or in installments.
The rise in high-deductible insurance has turned many medical professionals and their staff into part-time debt collectors and they are fed up with it.
Contact us and one of our debt recovery specialists will get in touch with you to briefly review your receivables situation and recommend which product is best for you.
WHY HIRE US?
Our unique people-first approach helps to protect the valuable reputation of your healthcare practice. We work with debtors to find the best strategy so that they are able to clear your medical bill. ALL our debt collectors are located in USA only.

Regardless of the size of your healthcare practice, we deliver superior recovery rates from your accounts receivable. We maintain a BBB rating of A+ and are affiliated to ACA International. Highly rated on Google-Reviews as well. To protect the privacy of your patients, Kinum is 100% HIPAA-compliant and our knowledgeable staff is well trained not to indulge in any unethical techniques.

We offer both "Flat fees" and "Contingency only" options. Some debts are collected within weeks while others take longer, each case is treated uniquely. Kinum is a reputable medical debt collection agency.
1. Why is there such an urgency to submit medical accounts early?
Here is a graph showing the probability of collecting money depending upon how old the debt is.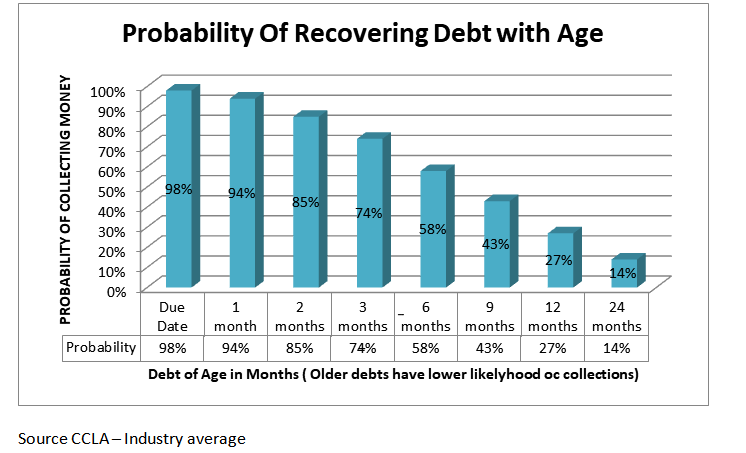 If demand is raised within 30 days, the probability of recovering money is nearly 90%. If you wait for 6 months, the chances fall to about 50% and keeps falling thereafter. Flat fees services charged by a medical debt collection agency are extremely cost-effective than engaging your own staff to handle these account receivables.
2. Keep your patients:
Attorney-approved Collection Letters (Step 1 or Step 2) play a vital role in medical accounts receivables. These two steps attempt to put enough pressure on the patient to pay without annoying him. Let's look at this chart before we discuss it further.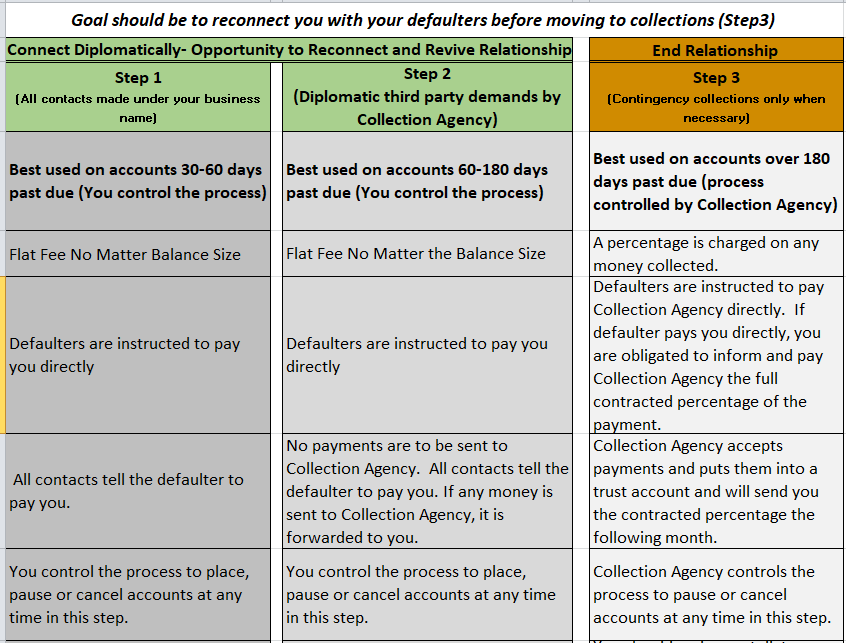 In Step 1, a total of five "reminder" calls/letters go out in your own name, in Step 2 about five more "collection" letters go out under the name of medical debt collection agency. Patients make payment directly to the doctor's office.
Our recommendation is that, after 30 days of non-payment of the account, it should be forwarded to a collection agency for Step 1. For the next 90 days, the collection agency will tactfully send a total of 10 contacts and there is an 80%-90% chance that you will recover your money. The verbiage of these contacts changes from soft to intensive. If a patient pays you the amount due during these 10 contacts, there is a high probability that you will not lose this patient and he/she will likely not spread a bad word about you since the collection was done in an amicable manner.
If a patient has not paid after sending Collection Letters or if it has been over 180 days since the payment is due, we recommend transferring the account for intensive collections ( Step 3 – Collection Calls service). In this step, a medical debt collection agency will get paid only when your patient makes the payment, otherwise, there is no charge.
3. No one likes to pay for services.
Accept the fact, people pay straight up in cash for groceries, diapers, cigarettes, alcohol, restaurant bills etc. because they are getting a physical product in exchange for money. After getting medical or dental treatment, a patient walks away with pretty much nothing. Willingness to pay for services goes down as time passes by. It further becomes a lower priority if other types of bills like auto-loan are also outstanding for your patient. With collection agency in the middle, it creates a sense of responsibility and fear in your patient's mind, increasing your chances to get paid.
How to shortlist a Medical Collection Agency
Select an agency that does not charge extra for Address Scrub, Bankruptcy Scrub and Litigious Defaulter Scrub in its Step 1 and Step 2, these costs quickly add up. The price per account ( with 5 contacts) varies between $25 to $10. The more accounts you buy in one go, the lower the pricing is.


Most agencies charge separately for Step 1 and Step 2 services. Only a few companies offer a combo package of Step 1 and Step 2, resulting in cost savings for the doctor in the range of 30% – 40% vs when you buy separately.


Select a medical collection agency that does both English and Spanish demands.


Most agencies will expire your unused Step 1 and Step 2 accounts after 1 or 2 years. Only a handful of agencies have these accounts with no expiration date. Isn't this awesome. You can buy a larger chunk of accounts initially at a lower price and keep using them over the years.


Many agencies will try to sell you contingency collection services directly (Step 3) even if your debt is less than 180 days old, which means they do not charge anything initially, but they keep about 40% to 50% of the amount collected. This is a great deal for the collection agency but not for you.

50% of all medical offices who start with Step 3 initially, start using Step 1 & 2 within the first year. I repeat, Step 1 and Step 2 have a smaller upfront cost, but they are drastically cost-effective. Only, if a patient does not pay after Step 1 and Step 2, or you have put in enough effort to collect money, only then assign it to Step 3 or if the account is more than 5 or 6 months old.


Will the agency report your defaulters to the Credit Bureaus after all collection efforts have exhausted, and you get to set that preference.


In the case of worker's compensation debt collection, it is important that your agency understands the "Americans with Disabilities Act". In many states, a medical collection agency is barred from attempting to collect from the injured employee, they must go after the insurance company.

This article is equally applicable to Medical, Dental, Vision and Veterinary practices.