Kinum has introduced a utility that can quickly transfer accounts from your Eaglesoft Dental Practice Management software to Kinum for debt collections without the need to manually re-enter accounts on Kinum's client portal. This saves a lot of time for the practice.
For about $15 per patient, Kinum will
1. Send 5 collection letters to your patient (or debtor).

2. Kinum will check if the debtor has moved to a new house and send letters there.

3. If your patient has filed for bankruptcy or not

4. Check if the patient is litigious or not, to protect your practice from costly lawsuits.

5. Update status in case there is a Mail Return.

6. Ability to forward this account for intensive collections ( Contingency based Collector calls) if the debtor still refuses to pay.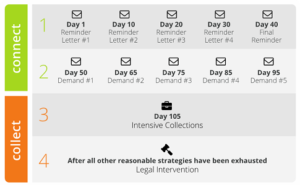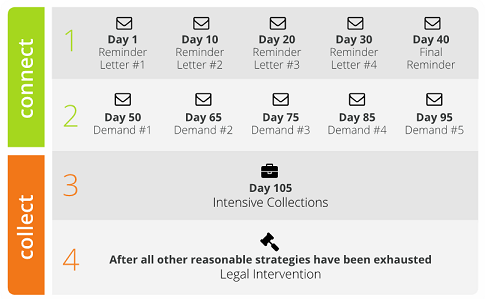 All this for only $15 per account. You can free up our staff time and focus on your dental practice. Performing collection tasks in house is a costly affair and may result in a full time position if the number of late paying/delinquent patients increase.
Additional features of Eaglesoft and Kinum utility ( Collections Extract Manager) include

1. Ability to transfer accounts to any step ( 1st party demands, 3rd party demands and 3rd party Collector calls)
2. You decide what should be the minimum outstanding balance eligible for collections.
3. Only send accounts if a payment hasn't been made in ___ number of days and have been ____ days past due
4. Transfer accounts one by one or in bulk.
5. If you make a payment in your Eaglesoft software, our utility will pick that up and reflect on Kinum's client portal.

Screenshots from the Kinum-Eaglesoft utility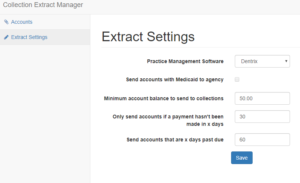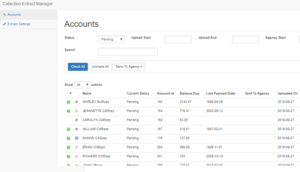 Apart from Eaglesoft, we have utilities many other popular dental software and billing platforms. Contact us if you are using:
Dentrix,
Solutionreach Dental,
CS PracticeWorks,
CS SoftDent,
CS OrthoTrac,
Lighthouse,
Dentrix Ascend
Easy Dental